Serving Suggestions 
There are of course countless fantastic was to enjoy wild Douglas Hall salmon; here are just a few simple ways to get you started! 
Wild Smoked Salmon Risotto: 
Ingredients: 
- 1 onion, finely chopped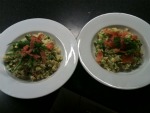 - 2 tbsp of olive oil
- 350g risotto rice e.g Arborio
- 1 garlic clove
- 1.5 litres of vegetable stock
- 170g of Douglas Hall wild cold smoked salmon, roughly chopped
- 85g of low fat Mascarpone
- 3 tbsp flat leaf parsley, chopped
- Grated lemon zest, plus a squeeze of lemon juice
- Handful of rocket  
Method:
1. Warm the oil in a large pan and fry the onion for 5 mins.
2. Add the rice and garlic and cook for a further 2 mins, stirring continuously.
3. Pour in a third of the stock and simmer for 20 mins, stirring occasionally, until the stock has been absorbed, then add half of the remaining stock and contnue to stir, until the stock has been absorbed. Pour in the last of the stock, stir, then simmer until cooked and creamy. 
4. Take from the heat and add most of the chopped salmon (save some for garnish), mascarpone, parsley and lemon zest. 
5. Grind in some black pepper. 
6. Leave for 5 mins to settle, add a little lemon juice to taste. 
7. Serve topped with the rest of the salmon and some rocket.
Wild Smoked Salmon Platter:  
Sometimes when the ingredients are as good as Douglas Hall wild smoked salmon you don't need to over dress them to enjoy them at their best. Why not simply enjoy them with some mayonaise, capers, black pepper and a squeeze of lemon on some crackers or bread, let the flavour of the salmon speak for itself!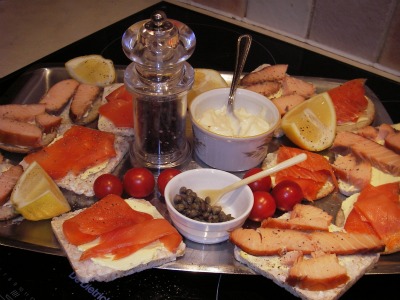 "It is certainly worth the 350 miles journey from London just to sample this stunning salmon! The smoked salmon is particularly delicious; about as far removed from the stuff sold by the supermarket chains as you can get. So fresh tasting! We always come back with a cold box full of both the smoked and fresh salmon and use it to impress our local friends!"
"The smoked salmon, both hot and cold smoked, was delicious - the best we have ever tasted. It was beautifully presented in packs of a nice size and made an excellent and superior starter for our dinner party. Everybody commented favourably about the lovely texture (dry and not slimey, like supermarket produce) and delicate flavour. There was absolutely no wastage. Wild, smoked, Solway, salmon is a treat worth waiting for and we look forward to having some more."